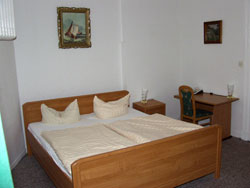 The old-fashioned, interior design of the double, triple, and quadruple rooms (23 in total) provides you with everything you will need for a nice and relaxing stay. Choose from one of two room types: comfort class with shower and toilet en suite or budget class with shared shower and toilet facilities. All rooms come complete with a television set. We also offer rooms furnished with a desk and desk-lamp for business travelers.
Parents and children are invited to use the large playground next to the hotel.
In addition to being located in the heart of town, our guest rooms are peaceful and quiet.
Our professional staff is happy to assist you in German, English or Russian. If you are unfamiliar with Berlin, just say the word and the front-desk management will help you get your bearings, send faxes or arrange for taxi services. Our friendly housekeeping staff keeps the hotel neat and tidy, and our night concierge sees to it that you always get to your room, safe and sound.